Alliance
Parks and Recreation Alum Promotes Luxury Camping
Patricia "PJ" Ray has always had big dreams and wanted more than your typical parks and recreation job; she wanted something she could call her own. Enter Marsh and Mountain, an outdoor adventure rental and glamping company Ray started alongside her husband, Chad, in Kinston, NC.
"We wanted to pursue building a business that was profitable, helped bring investment to rural eastern North Carolina, had a positive effect on the surrounding natural resources, and brought joy to families and individuals alike," Ray said.
Ray, a 2020 graduate of the online Master of Parks, Recreation, Tourism and Sport Management (MPRTSM) degree program, comes from a robust agricultural background so pursuing a career in natural resources was a no-brainer.
Growing up, Ray and her family maintained a farm in Pollockville, North Carolina, where they grew various crops and raised livestock. In 2004, she attended NC State for the first time to pursue a two-year Agricultural Institute degree in livestock and poultry management. After she graduated in 2005, Ray returned to her family's farm for a few years.
Ray's desire to further her education remained, however. So in 2008, she started an online program to earn a bachelor's degree in agriculture education. During this time, Ray spent many hours with both children and adults, promoting agriculture and agriculture programs, especially in her role as a public relations coordinator for the Onslow County Farm Bureau.
A few years later, Ray taught as an adjunct instructor in the agribusiness and animal science department at James Sprunt Community College in Kenansville, North Carolina. In 2018, Ray decided to pursue a master's degree in the College of Natural Resources.
"I wanted to help bring more opportunities for agriculture and tourism together in some way in eastern North Carolina," she said. "One of the other reasons I picked NC State to come back for another degree is because I loved it from the start. My family has always been a part of the Wolfpack: my grandfather graduated in forestry; my dad graduated in agronomy; and my husband in marketing."
Ray found the MPRTSM degree program to be the perfect fit to help broaden her skill set, and the degree's online availability was a major benefit. Ultimately, the lessons she learned in the program proved to be invaluable for her career.
"My degree helped me realize how parks, recreation, and tourism can not only save rural eastern NC communities but allow them to thrive again," Ray said. "Everyone from the family farm to the small downtown merchant can reinvent themselves in a way that brings attention to them in a digital world. With the right message to the right niche customers, people can make a living again in rural communities."
In 2019, Ray and her husband started Marsh and Mountain as an adventure rental company that provided RVs, campers, tents, kayaks, bikes and more. The company had a very successful first year, which prompted an expansion and shift in focus.
Ray's company now provides a local luxury camping experience where tourists can experience glamping, a combination of luxury and nature that evolves the traditional camping experience.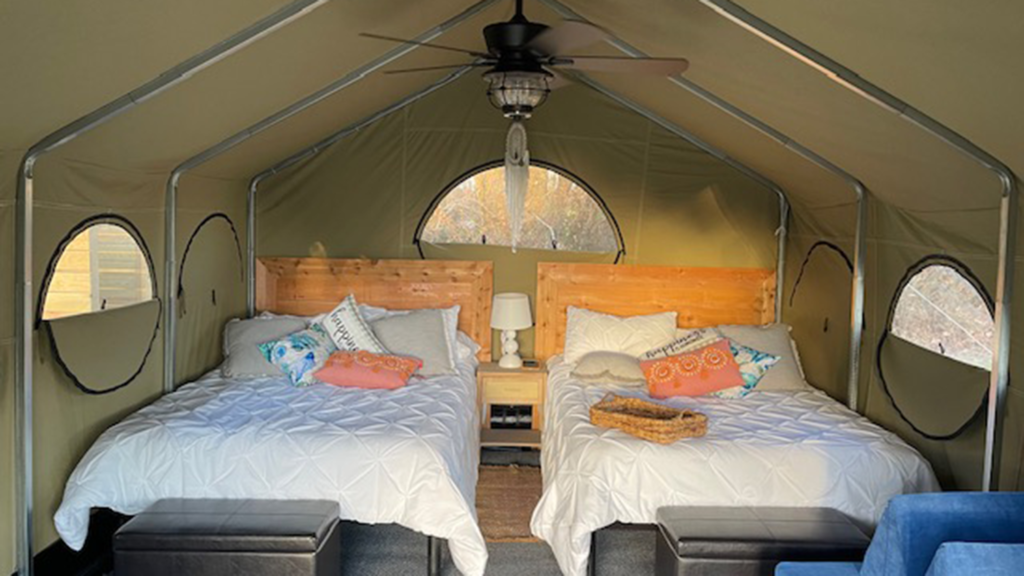 At Marsh and Mountain's private campground, "Glamptopia", each tent is situated on a raised platform and features electricity, lighting, furniture and bedding. The campground offers a primitive camping and tiny house cottage experience as well, along with amenities such as a playground, fire pits, disc golf, volleyball, a telescope, walking trails and more. Soon, Ray plans to expand the business further by providing RV sites.
Through her company, Ray aspires to leave a lasting, positive impact on the local community. Ray hopes that tourists will use "Glamptopia" as a launching pad for adventures close by, from the coast to various state parks.
Ray estimates that if she and her husband can fill their campground to only 50% capacity, with each family spending $150 over a weekend at local shops, restaurants, breweries and more, their business could generate more than $300,000 in economic impact to Lenoir County.
"We also want to make positive social impacts," Ray said. "We want to make a lasting impression on our guests as people who appreciate the great outdoors. We hope 'Glamptopia' is somewhere families can grow stronger without screen time. We also want our guests to get out and meet others to appreciate their contributions to the community as artists, farmers, chefs, brewers, etc."
For current and future students in the College of Natural Resources, Ray has some parting wisdom: "If you are passionate about the world of natural resources in all its beauty, its challenges, and its opportunities, then the work is just part of what it takes to develop yourself. Greatness doesn't happen without work and commitment. But our world, especially our natural world, needs those with a passion to push themselves and become the leaders that can ensure future generations can experience a world with even more nature to appreciate."
This post was originally published in College of Natural Resources News.