Graduate Student Teams Shine in Lulu eGames
Five graduate student teams won cash prizes in NC State's 10th Annual Lulu eGames competition held April 3. The eGames provide more than $100,000 in venture capital to entrepreneurial teams that want to launch new businesses.
Finalist teams were chosen in five categories, and first, second and third place winners were named for each category at the live event.
One of the biggest team winners was OpenGait Prosthetics, a team of two Ph.D. students in biomedical engineering, Lindsay Sullivan and Aaron Fleming, and MBA alumnus Dustin Prescott. The team developed a prosthetic kit for above-knee amputations that will make the devices available to a larger global market.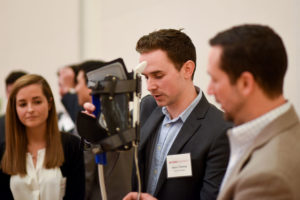 OpenGait placed in three categories: first in New Venture ($10,000), first in Social and Environmental Impact ($5,000) and second in Design and Prototype ($3,000). In addition, the audience chose OpenGait for having the best one-minute pitch during the competition, for which the team received an additional $1,000.
Sullivan said that the team worked on the prosthesis for the Poole College of Management's interdisciplinary Product Innovation Lab. Though she is in biomedical engineering, Sullivan doesn't work with prosthetics. Evans works on the high-powered prosthetics, which are much more complex than the model they developed for their class.
The cost of a powered above-knee amputee prosthetic can start at $5,000, and sometimes it has to be replaced in as little as one year, Sullivan said. Even the simplest prosthetic on the market will run $800, a little more than the $700 OpenGait hopes to get for theirs.
Their business model is to partner with aide organizations in the developing world that would purchase the prosthetic kits for individuals who need them. With their $19,000 in earnings, they believe they can manufacture 10 kits for a partner agency in Guatemala.
To help support their market in the developing world, Sullivan said that OpenGait may sell the prosthesis in developed markets to individuals who would use it for swimming.
Chirp was another graduate student team project that won $5,000, first place in the Design and Prototype category, plus $500 for their fan-favorite video. Chirp is a smart home device to monitor kitchen stoves for fires and provide a timely response to reduce property damage and to save lives.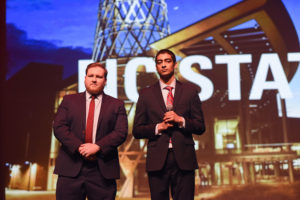 Team member Andrew Bowker said the group also came together through the Product Innovation Lab. They were given a prompt – find a solution for unattended home fires – but the resulting device required quite a bit of research, he said. The capital they raised will allow them to build a working prototype and do some product testing.
The Green Bleach team created a business plan for a product developed by NC State's Chemical Engineering Department. The $5,000 they raised will allow the team to develop a final formula for the non-toxic bleach and conduct more product research. They believe they can bring the product to market in about three years.
Two other product winners developed by graduate student teams include:
STEAM-E, a program to provide students in Appalachia with opportunities for equal access to STEM, arts and entrepreneurship education. STEAM-E won $5,000 in the New Venture category.
Vital Guide, a patient health and location monitoring system that allows personnel in hospital emergency departments to have advanced insights into the well-being of waiting room patients. Vital Guide won $2,000 in Built on a Cloud and $2,000 in Social and Environmental Impact categories.
Learn more about all the winners of the 2019 eGames
This post was originally published in The Graduate School News.