You Get Out What You Put In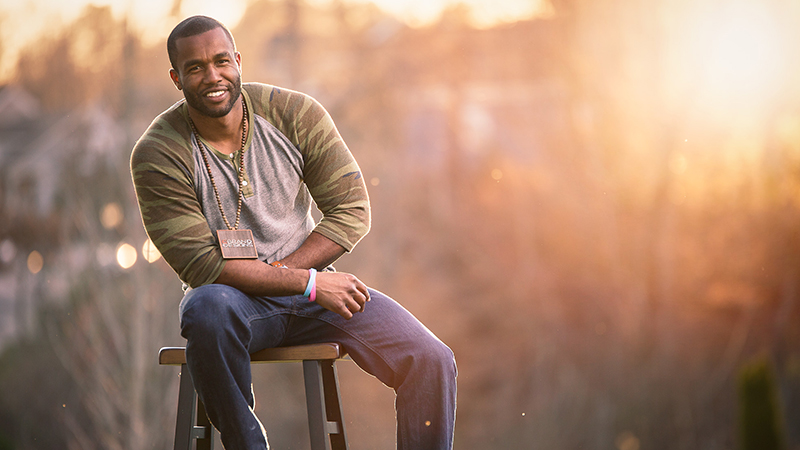 "I didn't know anything about design as a kid growing up. I didn't know any designers and didn't know that design was a career path. So, I can't say I always wanted to be a designer," says ClayVon Lowe [BID '03, MID '05].
Today, Lowe is an innovative and creative designer and entrepreneur. With a strong work ethic and a drive to solve problems through design, he continually pushes himself and his work. Lowe creates custom automotive concepts in his own D Brand Designs studio while also working as the Hardlines Design and Development Lead for Lowe's Home Improvement. But he didn't always have a clear vision of what he wanted to do.
As a kid, Lowe loved art and drawing, taking things apart, and building things. He was encouraged by a high school art teacher to consider NC State and architecture. With good grades and an impressive portfolio, Lowe was accepted. Once at the College, he stumbled upon an industrial design studio and saw car models and other student work in progress. Lowe says, "I knew immediately that was what I wanted to do." Without hesitation, he transferred from architecture to industrial design.
Lowe attributes much of the benefit of his education to learning from "a great group of professors at the College. They offered a lot of specialties, such as transportation, footwear, and furniture. Pretty much any profession you wanted to get into, there was a professor that had experience in that industry that you could lean on for advice, which was helpful."
Lowe took advantage of opportunities to get involved by participating with professional groups such as the NC State Industrial Designers Society of America student chapter (IDSA). "The College prepared me really well for my future as a designer," he admits. "If I hadn't been involved in IDSA and going to the district conferences and events like that, I can't say that I would be on the path that I am on now. It is part College and part me that took the initiative to be involved."
At his first conference in Charlotte, North Carolina, Lowe was offered an internship with TTI.  Even more opportunities came from his participation in IDSA. Lowe says, "my second internship, I landed with Kids II, also at an IDSA conference, and that led to my first full-time industrial design job." Both internships provided real-world experience that Lowe feels were great preparation. "The key is to be prepared to take advantage of opportunities. The College prepared me to be able to stand out at these conferences."
Lowe grew up in, Stoneville, a small rural North Carolina town and spent a lot of time with his grandmother who was a major supporter and advocate of his talents. Lowe's grandmother lived near a small airport, and Lowe would spend evenings with her drawing and watching the planes take off and land. The highlight would be when a jet would land or take off.
"I'm afraid of heights, so I never dreamed of flying," says Lowe, but in 2001, he took his first flight to an IDSA conference. Now, Lowe travels the world. Until his grandmother's passing in 2013, Lowe would call his grandmother immediately after a flight to share the experience with her.
Drawing and sketching has been constant in Lowe's life, and tractor trailers were his first infatuation. "Trucking has always been a passion of mine. My dad was a truck driver, and when he would come in off the road, I would sit out at the truck and draw a new feature every week. So eventually, after drawing trucks and learning all the parts and pieces to it, I got to the point where I just knew every component of a tractor trailer," says Lowe. This passion has stayed with him and is why he started D-Brand Designs.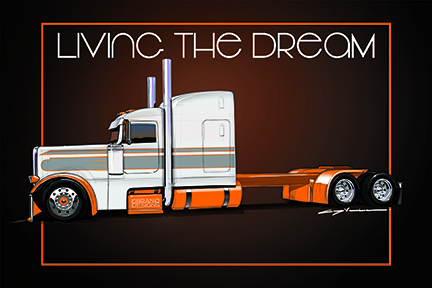 "D-Brand is where I really explore my freedom as a designer," Lowes reveals. Lowe combines his personal passions and design talents in D-Brand, creating automotive concepts for custom choppers, tractor trailers, sports cars, and muscle cars.
Lowe had the opportunity to design a custom motorcycle that was featured on the hit show "American Chopper." Lowe says that the experience was "surreal" and supported his personal mantra—"you can do or be anything you want to be, and the only thing that sets you apart is how bad you want it and how much work you are willing to put in to it in order to be successful."
When the airing of the motorcycle was to take place, Lowe was invited to be a part of the reveal. The invitation came with the opportunity to fly in a private jet. "The experience—from being a kid and drawing motorcycles at my grandma's house and watching jets from a small airport to growing up and designing a motorcycle for TV and having a chance to fly in a private jet, to take part in the filming of the show, and to watch the unveiling of the motorcycle that I designed—was amazing."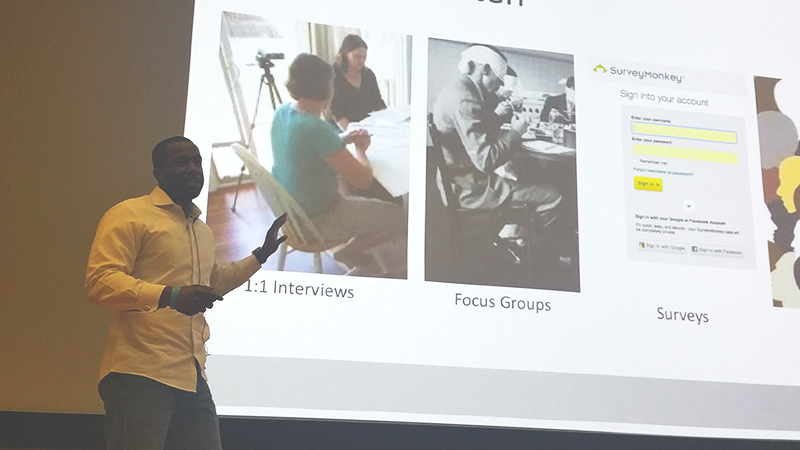 On the return flight, Lowe had another magical moment when he shared his story with the pilot who invited him to sit in the cockpit on the flight back. "I got off the jet and called my grandma and said, 'You would not believe what I did today!' It was mind blowing."
This spring, Lowe had the opportunity to be a keynote presenter at the 2018 IDSA Southern Regional Design conference that was held at NC State. His presentation was delivered with his signature energy and passion. Being invited to present at the IDSA conference was another important opportunity for Lowe. He shares, "I've have always been big on giving back to the next generation of designers and the biggest reason is that I personally understand the value of exposure. I learned about design from exposure. It is important to be exposed to different careers and exposure is everything."
Lowe says that his professional experiences—from designing toys to home decor products in lighting, kitchen, and bath, to the nationally acclaimed KOBALT tool brand—have taught him that "no matter what you are doing, playing basketball or designing, you get out what you put in."
This post was originally published in College of Design Blog.