Top Innovator, Entrepreneurs Honored
On a campus crowded with world-leading faculty spinning off startup companies and writing patent applications at a record-breaking pace, the annual awards for innovator of the year and entrepreneur of the year may be the toughest competition outside of Stockholm.
Chancellor Randy Woodson presented this year's awards, sponsored by the Office of Technology Commercialization and New Ventures, to three of NC State's most prolific and successful researchers in an informal event at The Point on Monday.
Fran Ligler received the Innovator of the Year Award for her work in biosensors and fluid control technology. Since joining the faculty in 2013, the Lampe Distinguished Professor of Biomedical Engineering has worked to develop microfluidic devices for use as diagnostic tools.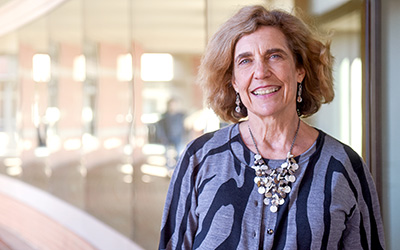 Ligler has patent applications pending for two inventions: a diagnostic test that could reduce the duration of surgery for people with hyperparathyroidism and a miniature, disposable pump nicknamed the "hydraulic battery." She recently received a grant through the Chancellor's Innovation Fund to commercialize the hydraulic battery technology.
Woodson quipped that Ligler had an "excused absence" from Monday's event to accompany her husband, George, to Washington, D.C. for his induction into the National Academy of Engineering. Fran Ligler was inducted into the academy in 2005, making the Liglers a power couple in the field of engineering. Woodson said only about six couples nationwide hold that distinction.
Before coming to NC State, Ligler worked for nearly three decades at the United States Naval Research Lab, where she earned five Edison Awards for the highest impact patents of the year. Her first seminal patent changed the way biological recognition molecules were incorporated into biosensors and was key to achieving the sensitivity required to make optical biosensors truly useful.
She was nominated for the award by Nancy Allbritton, head of the Joint Department of Biomedical Engineering at NC State and UNC–Chapel Hill.
As the result of a rare tie vote, the John S. Risley Entrepreneur of the Year Award went to both Matthew Breen and Marian McCord. The award is named for an NC State physics professor who founded WebAssign.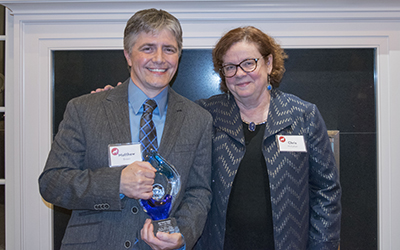 Breen, professor of genomics and the Oscar J. Fletcher Distinguished Professor of Comparative Oncology Genetics, currently has seven inventions at various stages of commercialization.
Breen is founder of Sentinel Biomedical, a company that has licensed several genetic tests he developed at NC State to identify genetic mutations that could lead to cancer in dogs. Thanks to a strategic partnership with the American Kennel Club, the company also monitors dogs across the United States to investigate environmental factors associated with various forms of cancer.
Since dogs share many of the same cancers as humans, the study could provide a "biological early warning system for potential adverse impacts on human health," said Kathryn Meurs, associate dean for research and graduate studies in the College of Veterinary Medicine. Meurs nominated Breen for the award.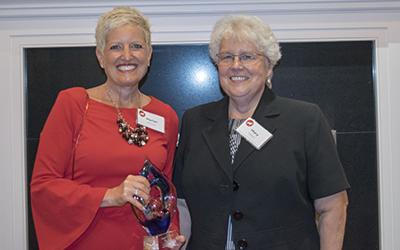 McCord, associate dean for research in the College of Natural Resources, is a pioneer in the field of atmospheric plasma treatment of fibers and polymers. She was a founder and co-director of the College of Textiles Atmospheric Plasma Lab.
McCord has worked to develop novel materials for vector protection for more than a decade. She and her colleagues recently developed a product that is now available under the name "Rynoskin Total" to protect against Zika and other mosquito-borne diseases. The team also launched Vector Textiles to bring vector-protection products to additional markets.
For the past nine years, McCord has been a scientific adviser to Sustainable Health Enterprises, a nonprofit agency that provides affordable, eco-friendly sanitary pads to women and girls in the developing world.
Mary Watzin, dean of the College of Natural Resources, nominated McCord for the Award.
Also recognized at Monday's Celebration of Innovation and Entrepreneurship were the 15 new startups launched at NC State in the past year, the recipients of this year's Chancellor's Innovation Fund and numerous faculty members who received patents in the past year.
Startups
Assist Equipment Development Inc.
Atomix LLC
BreStem Inc.
Catalyst Research Alliance
Deep Blue Medical Advances Inc.
EcoPRT Inc.
Karamedica Inc.
Lachancea LLC
Sanctuary Systems LLC
SinnovaTek Inc.
SinnoVita Inc.
Statera Environmental Inc.
The Handsome Microscopist LLC
VitalFlo Inc.
Zenomics Inc.
The Chancellor's Innovation Fund
Five projects were selected for funding in 2017-2018:
Allergy Therapies for Companion Animals — Bruce Hammerberg, Thierry Olivry
Comfortable Insect Bite- Resistant Clothing —  Andre West, Marian McCord, Charles Apperson, Michael Roe
Detection of Environmental Toxins Associated With Neurodegenerative Diseases — David Muddiman, Phillip Loziuk
Potent Antimicrobial and Anti-Biofilm Agents — Joshua Pierce
Virtual Marine Ecosystem: The Ocean, At Your Fingertips — Rouying He
Patent Recipients
Alex Q. Huang — 9,444,275
Alex Neubauer — PP27630
Behnam Pourdeyhimi — 9,469,920
Bradford Mott — 9,552,547
Brian Floyd — 9,453,906; 9,654,983
Bruce Hammerberg — 9,546,219
Charles Apperson — 9,392,788
Charles Mainland — PP26899
Charley Wilson — 9,654,983
Christian C. Melander — 9,439,436
Coby Schal — 9,392,788
Dennis James Werner — PP27630
Detlef Knappe — 9,475,710
Dror Baron — 9,607,362
Gary Cartwright — 9,615,593
Gerard Hayes — 9,437,922
Gianluca Lazzi — 9,437,922
Gina E. Fernandez — PP27299
Gregory S. Sawicki — 9,492,302
Henry Lamb — 9,597,667
Troy Nagle — 9,662,049
Hamid Krim — 9,418,318
Hasan Jameel — 9,428,865
Hongrae Kim — 9,537,319
Injong Rhee – 9,444,688; 9,544,235
James Curtis Lester II — 9,552,547
James R. Ballington — PP26899; PP27299
Jihwan Kim — 9,690,026
Jonathan S. Lindsey — 9,417,245
Josip Simunovic — 9,615,593
Kandiyan Sandeep — 9,615,593
Kenneth B. Adler — 9,408,886
Kenneth Swartzel — 9,615,593
Linyou Cao — 9,527,062
Loganathan Ponnusamy — 9,392,788
Lucian Lucia — 9,428,865
Michael D. Dickey — 9,437,922
Michael J. Escuti — 9,442,015; 9,690,026; 8,305,523; 8,339,566; 8,358,400
Michael Kudenov — 9,442,015
Mo-Yuen Chow — 9,643,511
Pablo Coronel — 9,615,593
Paul Franzon — 9,613,544
Peichun Yang — 9,613,544
Peng Ning — 9,483,635
Ralph Dewey — 9,560,830; 9,596,822; 9,596,823; 9,596,824; 9,603,335
Ramsey S. Lewis — 9,560,830; 9,596,822; 9,596,823; 9,596,824; 9,603,335; 9,596,823
Richard Lemaster — 9,400,239
Robert M. Kelly — 9,587,256
Rongda Qu — 9,580,722
Ruben G. Carbonell — 9,678,085
Samuel M. Hudson — 9,414,967
Steven Shannon — 9,475,710
Thomas G. Ranney — PP27109; PP27301; PP27579; PP27712; PP28,094; PP28,095
Van Den Truong — 9,615,593
William Bland — PP26899
Wookhee Min — 9,552,547
Yifei Yu — 9,527,062
This post was originally published in NC State News.